Google's Latest Index Update, Caffeine Is Officially Live
On June 7th, Google's Matt Cutts, made the announcement that Google's latest index update was officially live. This is a change that the entire SEO community has been watching unfold since September of last year. Yet, once released, the Caffeine update wasn't what it was described to be in September.
However, the Mayday update that took place the first few days of May, did all that Caffeine was promised to do and more. The Mayday update went so far as to devastate some site's traffic by as much as 50%! This change was originally supposed to be part of Caffeine, but since it was released before Google went fully live with Caffeine, the industry saw it as something separate, whether Google planned it that way or not. The good news is that with the dust settling on Google's search results there is now a whole new type of index with new rules and new top listings.
Now we know you may be a little off balance right now from these two huge updates so let's check out what kind of things you can do to get that top spot.
Fast Loading Time – As discussed in our May 2010 updates, delays of even less than half a second can have a negative effect on your site. Your visitor satisfaction will go down, and users will spend less time at your site and return less frequently. Remember that smaller pictures are just as good as larger pictures, and don't sacrifice quality for speed.
Quality Over Relevancy – This is the main point from the Mayday update. It used to be that Google seemed to treasure relevant results before everything else. Many long-tail keyword pages were lacking in quality even though they were very relevant, and were still ranking well. This is no longer the case. If you've lost long-tail rankings the best thing to do is increase quality by building incoming links and trying to better match those specific queries you're trying to rank for. Always check your competition to see why they rank better.
Metadata is Back – Google used to consider the metatags a spam technique but has now decided to start using metadata description information for its search index descriptions.
Social Media – Cleverly using social media as a way to get some incoming links can give you a ranking boost. Asking users to Retweet or to Buzz your content can help, but remember it's not a substitute for having a well optimized Web site.
Standard SEO Applies – There is a small emphasis on speed, and long-tail keyword pages need to be higher quality, but don't forget the SEO basics. Build strong incoming links, create unique content, and optimize your pages, videos, and photos.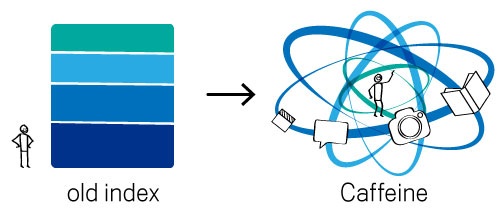 How the new update actually works…
Sure you probably know that Caffeine is Google's new indexing system, but do you really know what that means? Google Caffeine changes the way the index is organized so that you can get 50% fresher results. Originally the old index had several layers, some of which refreshed faster than before.
The main layer updated every two weeks, but in order to update another layer the entire Internet had to be analyzed before new content could be posted. With Caffeine, Google can analyze smaller portions of the Internet and is continuously updating and in lesser time. So now when you post something, it will be as close to instant as possible, just as you expect it to be, and Google knows that's how you like it.
Additionally, Caffeine enables Google to index vast quantities of content every second. Google stated that Caffeine is nearly 100 million gigabytes and is capable of adding hundreds of thousands of gigabytes a day.
Remember that Caffeine is an update to Google's search index not its algorithm. Caffeine speeds up the time it takes for Google to update its content, meaning when you publish, it will be available on Google faster. Caffeine does not affect Google's algorithm, meaning it does not affect the ranking factors like the Mayday update did. So if you were thinking about what kind of action to take to respond to the Caffeine update, the answer is you don't need to do anything, but because they are updating more frequently your updated content can show up sooner!